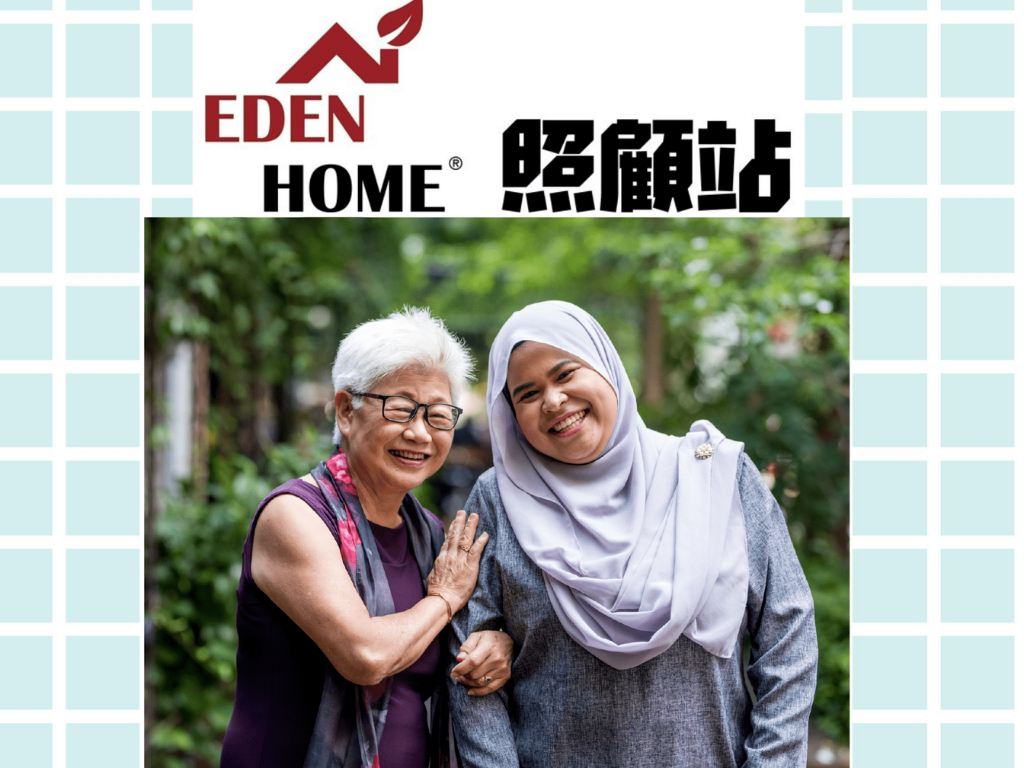 申請外傭看護服務
---
介紹:
外傭看護可以減輕照顧者的壓力。EDEN HOME挑選具護理經驗的印傭,並懂得以廣東話/國語溝通,負責照顧體弱長者、傷健人士、行動不便等長期需要護理的人士,提供各項個人護理(包括餵食、沖涼、換片、扶抱、復康運動、生活關顧等)和日常起居生活料理工作(包括家居清潔、煮食等),為長者提供貼心的照顧。
申請外傭看護服務收費原價:HKD 14,880/個案,樂活新中年升級會員優惠價: HKD 14,680/個案,服務內容如下。
如欲了解更多此服務,請按此留下個人聯絡資料,EDEN HOME會有專人聯絡您有關服務資訊。
EDEN HOME代辦聘用外籍家傭,費用已包括:
- 配對合適外傭,提供專業意見
- 本港領事館合約費及文件程序費
- 香港入境簽証費及文件程序
- 本港註冊化驗所驗身
- 兩年外傭保險 (價值$1,280)
- 送:新冠肺炎(COVID-19)核酸檢測
EDEN HOME特設免費增值服務,提供外傭照顧新體驗
- 由照顧策劃師提供專業評估,全面了解長者的需要,訂立最適切的照顧計劃
- 外傭到埗後,協助僱主處理外傭的工作導向
- 入職後,派員上門跟進外傭工作表現,提供適切指導
- 於外傭合約期間,醫護團隊提供持續專業諮詢和支援,為長者各項照顧需要提供解決方案。
EDEN HOME網頁: https://www.edenhome.hk/
Testimony on Eden Care maid service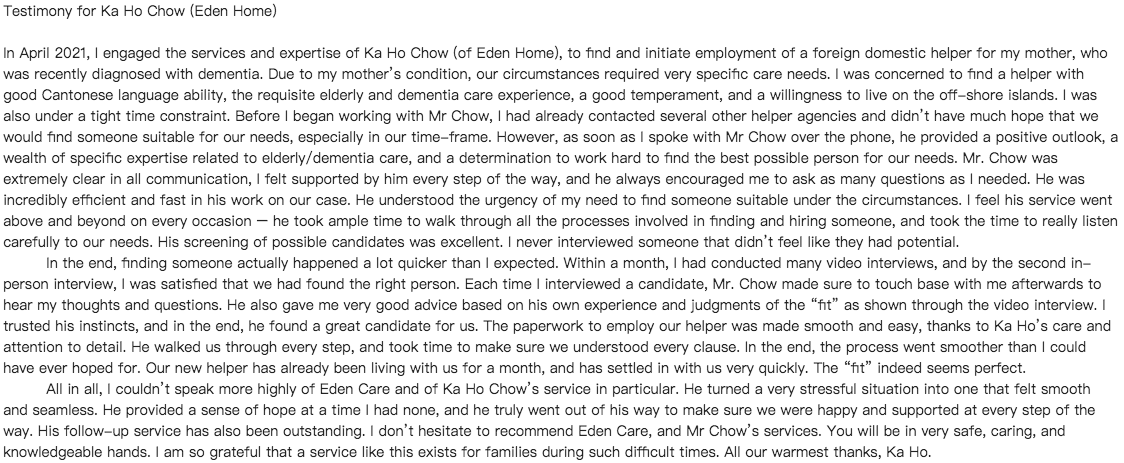 In April 2021, I engaged the services and expertise of Ka Ho Chow (of Eden Home), to find and initiate employment of a foreign domestic helper for my mother, who was recently diagnosed with dementia. Due to my mother's condition, our circumstances required very specific care needs. I was concerned to find a helper with good Cantonese language ability, the requisite elderly and dementia care experience, a good temperament, and a willingness to live on the off-shore islands. I was also under a tight time constraint. Before I began working with Mr Chow, I had already contacted several other helper agencies and didn't have much hope that we would find someone suitable for our needs, especially in our time-frame. However, as soon as I spoke with Mr Chow over the phone, he provided a positive outlook, a wealth of specific expertise related to elderly/dementia care, and a determination to work hard to find the best possible person for our needs. Mr. Chow was extremely clear in all communication, I felt supported by him every step of the way, and he always encouraged me to ask as many questions as I needed. He was incredibly efficient and fast in his work on our case. He understood the urgency of my need to find someone suitable under the circumstances. I feel his service went above and beyond on every occasion – he took ample time to walk through all the processes involved in finding and hiring someone, and took the time to really listen carefully to our needs. His screening of possible candidates was excellent. I never interviewed someone that didn't feel like they had potential.
In the end, finding someone actually happened a lot quicker than I expected. Within a month, I had conducted many video interviews, and by the second in-person interview, I was satisfied that we had found the right person. Each time I interviewed a candidate, Mr. Chow made sure to touch base with me afterwards to hear my thoughts and questions. He also gave me very good advice based on his own experience and judgments of the "fit" as shown through the video interview. I trusted his instincts, and in the end, he found a great candidate for us. The paperwork to employ our helper was made smooth and easy, thanks to Ka Ho's care and attention to detail. He walked us through every step, and took time to make sure we understood every clause. In the end, the process went smoother than I could have ever hoped for. Our new helper has already been living with us for a month, and has settled in with us very quickly. The "fit" indeed seems perfect.
All in all, I couldn't speak more highly of Eden Care and of Ka Ho Chow's service in particular. He turned a very stressful situation into one that felt smooth and seamless. He provided a sense of hope at a time I had none, and he truly went out of his way to make sure we were happy and supported at every step of the way. His follow-up service has also been outstanding. I don't hesitate to recommend Eden Care, and Mr Chow's services. You will be in very safe, caring, and knowledgeable hands. I am so grateful that a service like this exists for families during such difficult times. All our warmest thanks, Ka Ho.
立即WhatsApp訂購:https://bit.ly/2TaDUka